Teak Plywood For Sale
Teak Plywood which relives the old world nostalgia of teak. Made from quality Burma Teak, it comes with a rich legacy and its exquisite natural colors are compatible with any kind of polish, while the beautiful patterns are of timeless appeal. Choose from our series of mesmerizing designs and add a dash of finesse to your interiors. Because, there are some things in life that are meant to be forever.
Description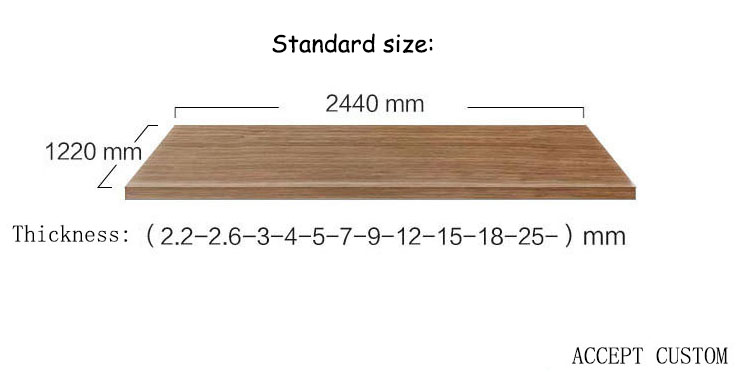 Specification
1.Standard size is available: 1220mm×2440mm, or as your requirment
2.Thickness: 3mm, 6mm, 9mm, 12mm, 18mm
3.Tolerance Thickness: +/-0.2mm
4.Face: Natura teak, EV teak, EP teak, Burma teak
5.Core: Poplar, hardwood, eucalyptus, poplar and hardwood mixed
6.Glue: MR/Melamine/WBP
7.Grade: AA, AAA
8.Usage: Construction works, bridges, home decoration and furniture
9.Density: 500-700 kg/cbm
10.Adhesion of piles (in dry state) Excellent 9 Adhesion of piles(in wet state) Excellent
11.Tensile strength
Along the grain ≥ 5000 N/mm2
Across the grain ≥ 3500 N/mm2
12.Glue shear strength ( in dry state) ≥ 1450 N/mm2
13.Glue shear strength ( in wet state) ≥ 1100 N/mm2
14.Modulus of elasticity Along the grain 8500 N/mm2
Teak plywood price:
The factors that affect the price depend on the origin and age of the teak, generally there are two types, one is natural teak and the other is planted teak. Request a quote
The advantages of teak plywood:
Strong natural resistance to termites and insects
High dimensional stability
Good resistance to moisture and water, making it the wood of choice for shipbuilding and; due to its good moisture resistance, is ideal for interior furniture.
Product details: