Melamine Mdf Board
Melamine-faced MDF, yes the name sounds unique and sweet, but what is it? That is what we seek to answer in this guide. Continue reading for more insights.Read more about high gloss melamine board.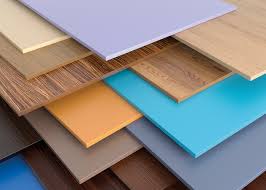 What Is Melamine Faced MDF?
The process of creating melamine faced MDF board is as easy as a, b, c. All that manufacturers need to do is to cover the MDF core with a decorative resin-impregnated paper, and that is all. Besides, the paper utilised for melamine face can be textured or hued to look like real wood finishes. Sheet Materials Wholesale melamine white-faced MDF is ideal for use in high-quality furniture as well as interior design projects.
Generally, the melamine covered MDF core consists of wood fibres, and that gives it a flat and smooth surface, dimensional stability, high density and those are features that make it easy for processing. You can get it in different thickness, decorative finishes and designs to one or both sides white melamine sheets.
Advantages of Melamine Faced MDF Sheets
Attractive decorative finish- If there is one property that makes white melamine faced MDF stand out from the other sheet materials is its extensive and varied finishes available. Whatever you need in terms of decoration, you get it.
The versatile range of colours, patterns and textures- You can choose the textures, colours or patterns that you need thanks to the versatility of MDF melamine board.
Easy-to-machine MDF core- Melamine white-faced MDF is machinable and doesn't split when cutting. It provides great consistency throughout its manufacturing.
Cost-effective- Since the MDF itself is engineered from wood chippings, that makes it cost-effective compared to solid wood. As such, it is a great alternative if you want to save some bucks but still get the same benefits offered by solid wood such as beauty.
Environmentally friendly- melamine sheets prices is engineered from wood fibres which are bound together by resin and waxes. Usually, these wood fibres are obtained from recycled pallets, forest thinning and sawdust. That makes the product environmentally friendly compared to solid wood.
Common Uses of White Faced MDF
Melamine-faced MDF sheets are utilised in a myriad of applications including making:
Kitchen cabinets;
Cupboards;
Furniture;
Shelving;
Wardrobes;
Wall units;
Boat fit-outs;
Shopfittings;
Fire surrounds;
Hotel interiors;
Bar interiors;
It is also worth noting that because of its dimensionally stable and smooth surface, melamine covered MDF is also utilised for laminate veneers or decorative wood white melamine board 8×4.
Note: Any kind of dust can be detrimental if ingested or inhaled directly and melamine furniture board is no exception. When cutting it, it is always advisable to wear the right PPE such as goggles and dust masks. Also, you should fit your machines with the correct dust extraction equipment. Also, your mdf board laminated workshop ought to be well-ventilated. Experts recommend the use of respirator fitted with P2 filter units.
Conclusion
Cost-effective, easy to work with, aesthetically appealing and environmentally friendly, there is no doubt that white melamine faced MDF is the right sheet material to choose. Whether you intend to make kitchen cabinets or decorate your hotel or bar, this product will serve you the best melamine boards home depot.